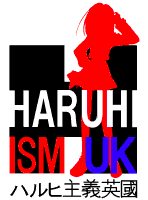 [ The Remixes of Haruhi Suzumiya ]
Visitors:
7202

Haruhi Suzumiya

Yuki Nagato

Mikuru Asahina

Ryoko Asakura
Track:
Parallel Days
Yuki is Love
(Yuki, Muon, Madobe nite)
Mitsukete Happy Life
Cool Edition
Download:
Ogg
Ogg
Ogg
Ogg
Buy
Original
Version:
Buy
Buy
Buy
Buy
All four character song remixes are also available as MP3 in a single download here (RapidShare, 20374KB) or by BitTorrent.

Aya Hirano
Track:
Super Driver
(Haruhiism UK Voidcore Remix)
Download:
Ogg / MP3
Buy
Original
Version:
Buy
Remixes from Other Animes
Buy
Original
Version
K-ON: ED

Sakurako Keionbu - "Don't Say 'Lazy'"
Haruhiism UK Remix
ogg
Buy
Sakurako Keionbu - "Fuwafuwa Time" ("Fluffy Time")
Haruhiism UK Light and Fluffy Remix
ogg
Buy
MACROSS FRONTIER: (Commercial Break, sampled)

DJ Midarezaki featuring Ranka Lee - Gorgeous Delicious
(This is an original track based around a short sample)
ogg

FLAC

MP3
N/A
INUYASHA: ED3

Ayumi Hamasaki - Dearest
DJ Midarezaki Mashed-Up Club Mix
ogg
Buy
or
Buy
RENTAL MAGICA: OP
Lisa Komine - Faith
Haruhiism UK Voidcore Mix
ogg
Buy
Lisa Komine - Sora ni Saku
Haruhiism UK Voidcore Mix
ogg
STARSHIP OPERATORS: ED

KOTOKO - Chi ni Kaeru ~on the Earth~
Haruhiism UK Club Remix
ogg
Buy
CLAYMORE: ED
Riyu Kosaka - Danzai no Hana ~Guilty Sky~
Haruhiism UK Great Sword Remix
ogg
Buy
Haruhiism UK Club Mix
ogg
Haruhiism UK Club Mix - English lyrics
ogg
H2O ~Footprints In The Sand~ OP:
Sakakibara Yui - Katayoku no Icarus
Haruhiism UK Club Mix
ogg
Buy
H2O ~Footprints In The Sand~ ED:
Shimotsuki Haruka - Kazahane
Haruhiism UK Club Mix
ogg
Buy
KUJIBIKI UNBALANCE: ED
(Genshiken DVD extra)
UNDER 17 - Kagayaki Cyalume
Haruhiism UK Helium Remix
(yeah, we were being silly with this one.)
ogg
Buy
All remixes by Distant Void and DJ Midarezaki.
Please don't link directly to the files on this page, link to this page instead.
Page last updated 2010-09-08.
The "Buy Original Version" links are for the original, official versions on CD,
not these fan-made remixes which are only available by download.
If you enjoyed these remixes please buy the official original CDs and support the original creators.
Many thanks to DJ Bouche for his assistance with the samples of Yuki in "Yuki is Love".